Repeater Visit November 11, 2014
The last visit just three days ago found that two of our solar panels had come down due to the frame holding them coming apart. Seems that after many years the screws holding the frame together rusted enough to remove most of the threads and the last wind storm was able to pull the screws out of the wood.
The trip today had Tim, KE7TAC, John, KG7DPW, and Dale, K7FW going up to repair the frame and get the panels mounted once again. We started at 8 AM in very windy and cold conditions. We found frost and temperatures just at freezing at the repeater site and lots of wind. It was COLD!
The plan was to use the wood from the existing frame, but not knowing what else we might need we brought along lots of materials - pressure treated 2x4s, worm drive saw, drill, generator, extension cords, all manner of screws and bits, as well as some cordless drills and a drill/driver.
We were lucky that we could use the old pressure treated wood by removing the old screws and inserting some new ones. That made our work go pretty quickly. The cold combined with really strong wind gave us quite an incentive to work quickly.


Tim, KE7TAC, and John KG7DPW
add a couple new screws to the
one surviving 2X4.


We need to send a thank
you note to the company
that makes these screws.

They require no pre-drilling
and use a star drive. Using my
Makita drill-driver these did
an excellent job of securing
the 2x4s.

If we install new panels I am
going to suggest new wood
and stainless hardware.


One of the panels has a little
damage. The power cord
is not well seated in the
connector. On the next trip
up we should try and repair
this to see if we can make
the connection waterproof.

Unfortunately it will probably
be a while before the next
trip up. We did not have any
materials on this trip to deal
with this.


One of the tasks
for this trip was
to attach some
asset tags to
equipment.

This is the repeater
controller, a CAT 300.
Having the repeater
cabinet open gave me
an opportunity to get
a photo of it.


Tim, KE7TAC on the left
and John, KG7DPW on the
right standing by the
repaired panel support.


Dale, K7FW next to
the repaired panel
support. Despite the
sun, it was cold!

The Arch Cape repeater ready for winter:



The view of Arch Cape from the repeater site: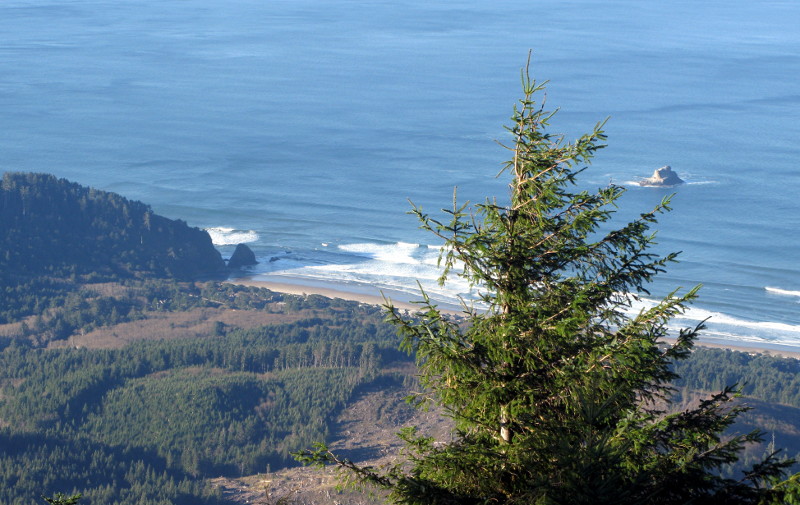 Back to main repeater page.